PRECAUTIONARY GUIDELINES ON ONLINE MEETINGS
The Office of the Undersecretary for Administration (OUA) and the Information and Technology Service (ICTS) have received several reports of unwanted and disruptive intrusions and infiltrations (also known as zoom-bombing or zoom raiding) on online meetings. As such, OUA and ICTS strongly recommend that all teachers and nonteaching personnel only use the following platforms for video conferencing:
a) Google Meet
b) Microsoft Teams
c) Workplace by Facebook
In addition, all are instructed to strictly follow these guidelines when creating, scheduling, distributing, and managing online meetings with personnel or learners:
a) use your official primary DepEd email (@deped.gov.ph) in accessing/using Video Conferencing Apps:
b) consolidating official details of the participants (e.g. full name, email address);
c) create a contact list of verified participants on the video conference apps;
d) create a scheduled meeting and strictly use the contact list created;
e) send the scheduled meeting to participants' email address (this is automatically done by the video conferencing apps)
f) participants must only refer to the link sent to their email address;
g) do not share the meeting or code in Social Media or other unofficial modes of communication;
h) host of the meeting should not accept anyone requesting to join the meeting who is not included in the contact list;
i) host may update the contact list or the list of participants by editing the scheduled meeting;
jde) host should always record the meeting and review the attendees.
In case online meetings are infiltrated, compromised, or hijacked, the Host should do the following:
a) take screenshots or pictures of the incident;
b) secure a copy of the Recording;
c) save the Recording to your DepEd Google Drive if possible;
d) immediately inform the head of the department regarding the incident;
e) make a narrative report of the incident, addressed to the Information Technology Office;
f) coordinate with the ICT Coordinator in informing the Division Information Technology Officer (ITO) of the incident before submitting the narrative report for initial investigation and inquiry;
g) submit a copy of the incident to the Division Office.
For issues and concerns beyond the capability/scope of the IT Officers in your area, please contact ICT Service-User Support Division thru email icts.usd@deped.gov.ph.
For concerns on MS Teams/Google Meet, contact Mr. Genesis Fernando thru email at genesis.fernando@deped.gov.ph; and for MS Teams/Workplace, contact Ms. Catherine Fuller thru Workplace Chat at her email catherine.fuller@deped.gov.ph/
For immediate dissemination and strict compliance.
ALAIN DEL B. PASCUA
Undersecretary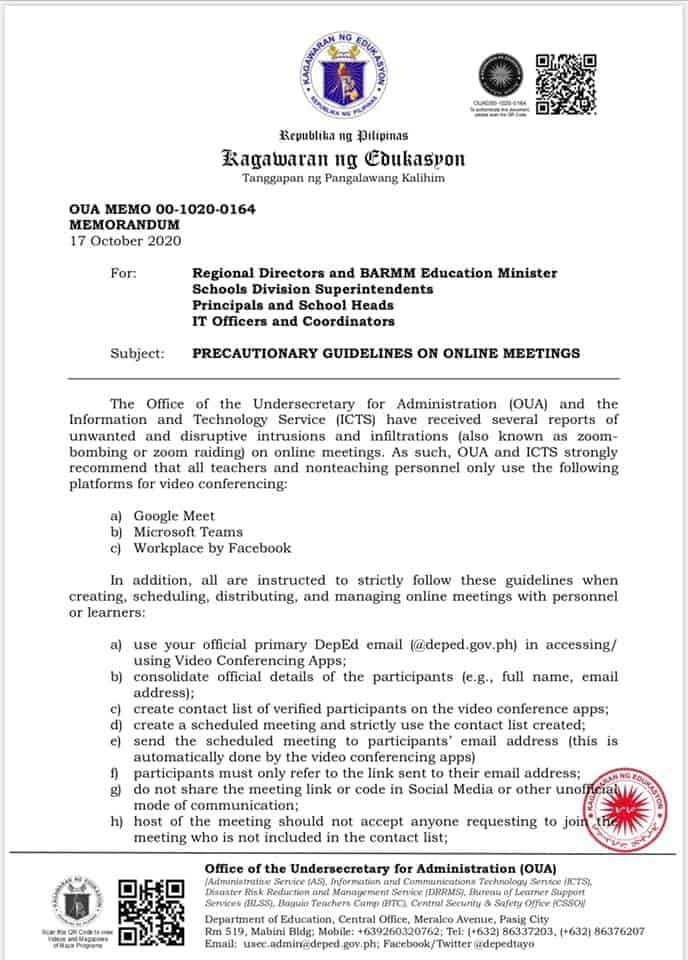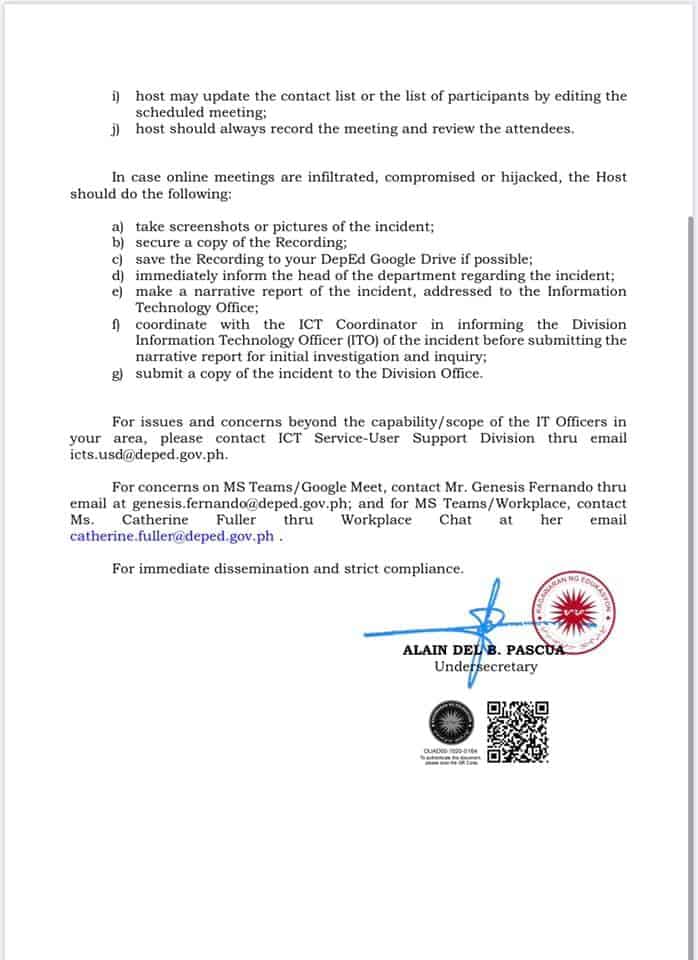 RECOMMENDED