Landbank told its cardholders to be aware and not become a victim of vishing. If you still don't know what is vishing then continue reading.
What is Vishing?
According to Landbank, vishing (Voice or VoIP phishing) is the latest modus operandi of fraudsters that trick you into revealing critical financial information over the telephone.
To elaborate further vishing is the fraudulent practice of making phone calls or leaving voice messages purporting to be from reputable companies in order to induce individuals to reveal personal information, such as bank details and credit card numbers.
To avoid becoming a victim of vishing, secure your bank account with these friendly reminders.
Read also: 4th week of March 2020 is 'National Week of Prayer'
Never divulge (disclose) your:
Card number
Card Expiry date
Credit Verification Value (CVV) at the back of your card
One-Time Pin (OTP)
User ID
Passwords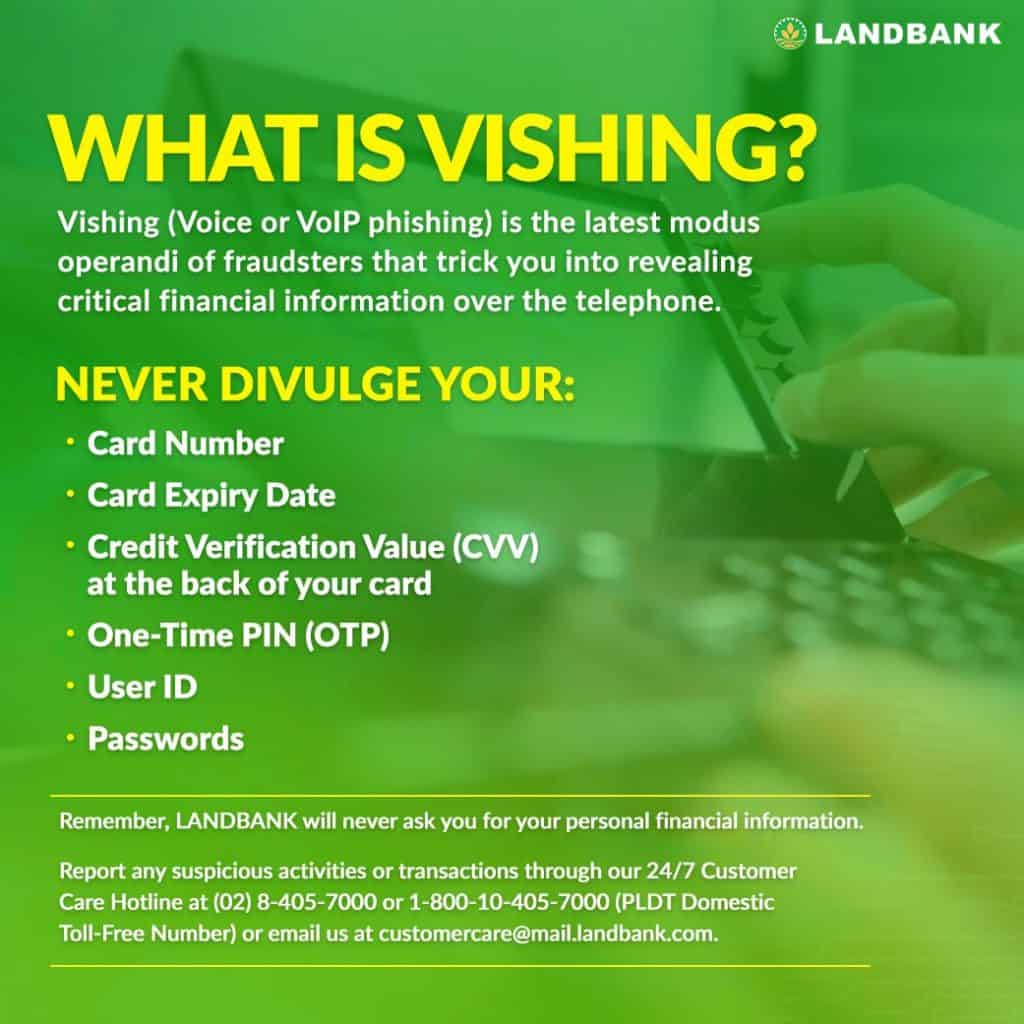 Remember also that Landbank doesn't ask for personal financial information especially over the telephone, text message, email or any electronic platform.
Report any suspicious activities or transactions through their 24/7 Customer Care Hotline at (02) 8-405-7000 or 1-800-10-405-7000 (PLDT Domestic Toll-Free Number) or email at customercare@mail.lanbank.com.
Landbank eBanking
Moreover, Landbank encourages its costumers to utilize online or mobile banking due to the COVID-19 pandemic health reasons, please be extra careful of transacting online.
"The Land Bank of the Philippines (LANDBANK) is urging its valued clients to utilize the Bank's electronic and digital platforms to serve banking needs while the country is under a state of calamity due to the coronavirus disease (COVID-19) pandemic," they said.
Read more about e-banking here: LANDBANK pushes for use of digital, e-banking channels; continues service delivery
Landbank Client Advisory
As posted on their official Facebook Page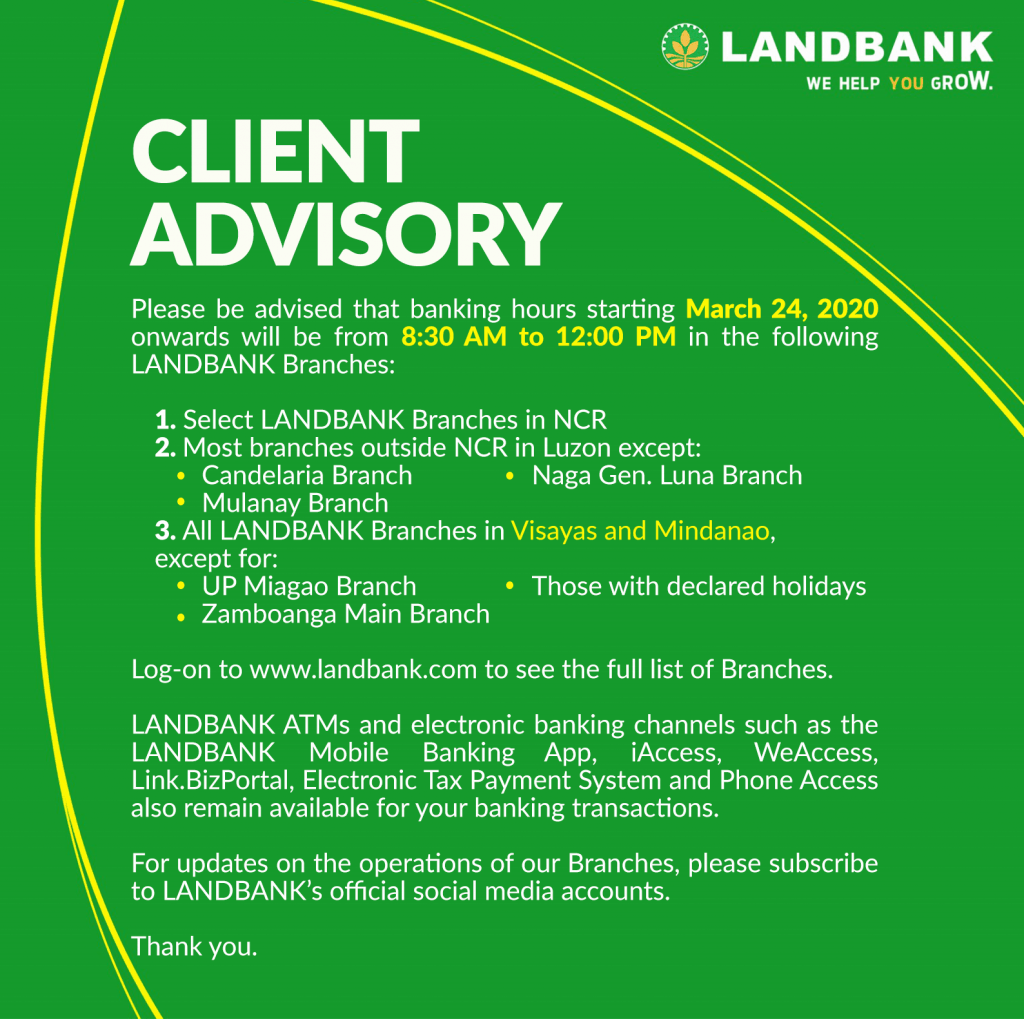 Please be advised that banking hours starting March 24, 2020 onwards will be from 8:30 AM to 12:00 PM in the following LANDBANK Branches:
1. Select LANDBANK Branches in NCR
2. Most branches outside NCR in Luzon except:
– Candelaria Branch
– Naga Gen. Luna Branch
– Mulanay Branch
3. All LANDBANK Branches in Visayas and Mindanao, except for:
– UP Miagao Branch
– Zamboanga Main Branch
– Those with declared holidays
Log-on to www.landbank.com to see the full list of Branches.
To see a list of OPEN branches, visit https://www.landbank.com/advisory/list-of-open-branches-from-march-24-2020-onwards
To see a list of CLOSED branches, visit https://www.landbank.com/advisory/list-of-closed-branches-from-march-24-2020-onwards
LANDBANK ATMs and electronic banking channels such as the LANDBANK Mobile Banking App, iAccess, WeAccess, Link.BizPortal, Electronic Tax Payment System and Phone Access also remain available for your banking transactions.
For updates on the operations of our Branches, please subscribe to LANDBANK's official social media accounts.
Thank you.
Additional reading on vishing
Land Bank of the Philippines, stylized as LANDBANK or also known by its initials, LBP, is a universal bank in the Philippines owned by the Philippine government with a special focus on serving the needs of farmers and fishermen.
RECOMMENDED