Declaring the Fourth Week of March 2020 as a National Week of Prayer
PROCLAMATION NO. 934
WHEREAS, due to the rising number of cases worldwide and the unprecedented levels of sustained person-to-person and community transmission of Coronavirus disease (COVID-19) around the globe, the World Health Organization characterized the outbreak of the disease as a pandemic on 11 March 2020;
WHEREAS, Proclamation No. 922 (s. 2020) declared a State of Public Health Emergency throughout the Philippines due to the COVID-19 outbreak;
WHEREAS, Proclamation No. 929 (s. 2020) declared a State of Calamity in the entire country for a period of six (6) months and imposed an Enhanced Community Quarantine throughout Luzon in light of the COVID-19 situation; and
WHEREAS, the State recognizes the religious nature of the Filipino people and the vital role of faith in bringing about peace, solidarity compassion and heroism in times of adversity;
NOW, THEREFORE, I, RODRIGO ROA DUTERTE, President of the Philippines, by virtue of the powers vested in me by the Constitution and existing laws, do hereby declare the fourth week of March 2020 as a National Week of Prayer.
During the aforesaid week, I urge all Filipinos of all faiths, religious traditions, and backgrounds to unite our hearts in prayer as we face the COVID-19 threat, fixing our eyes on the Almighty in this time of affliction.
I ask everyone to pray for the recovery of those who are now suffering from COVID-19, for comfort to those who lost loved ones, and for the protection of all, especially the most vulnerable sectors of society. Pray also for strength and endurance for our outstanding medical professionals and health workers on the frontliners, your military and law enforcement officers, the government officials and personnel dealing with the present threat, and all Filipinos who are working tirelessly to protect our communities, sacrificing their lives in the service of the country.
Through prayer, let us, as one nation, find strength to defeat this invisible enemy, with the aid and blessing of God.
IN WITNESS WHEREOF, I have hereunto set my hand and caused the seal of the Republic of the Philippines to be affixed.
DONE, in the City of Manila, this 21st day of March in the year of Our Lord, Two Thousand and Twenty.
By the President:
SALVADOR C. MEDIALDEA
Executive Secretary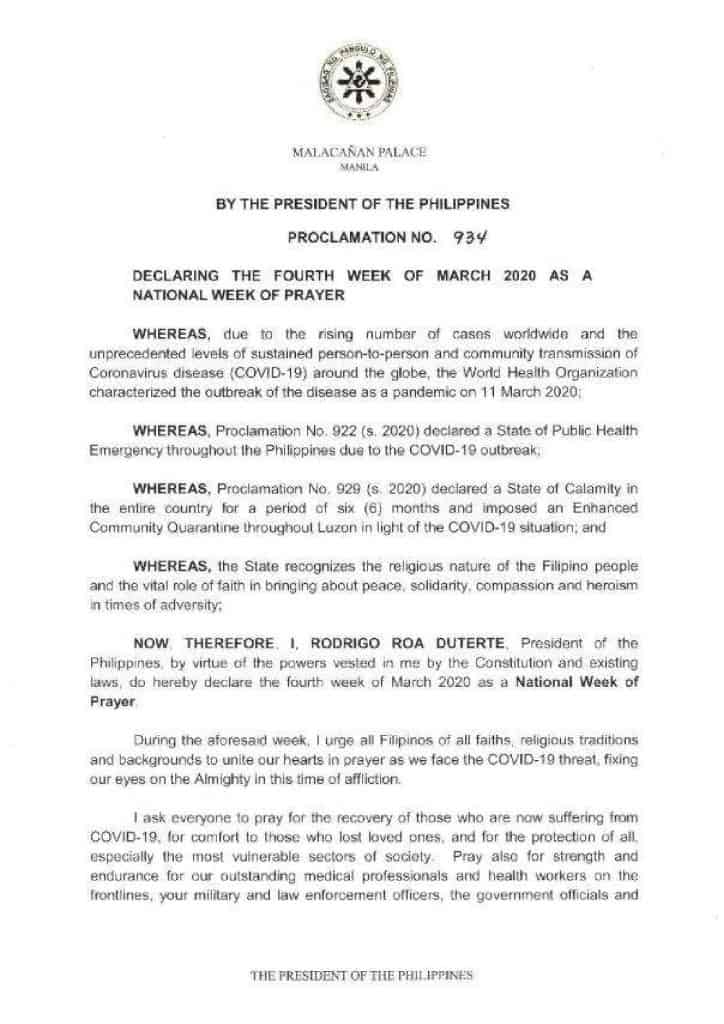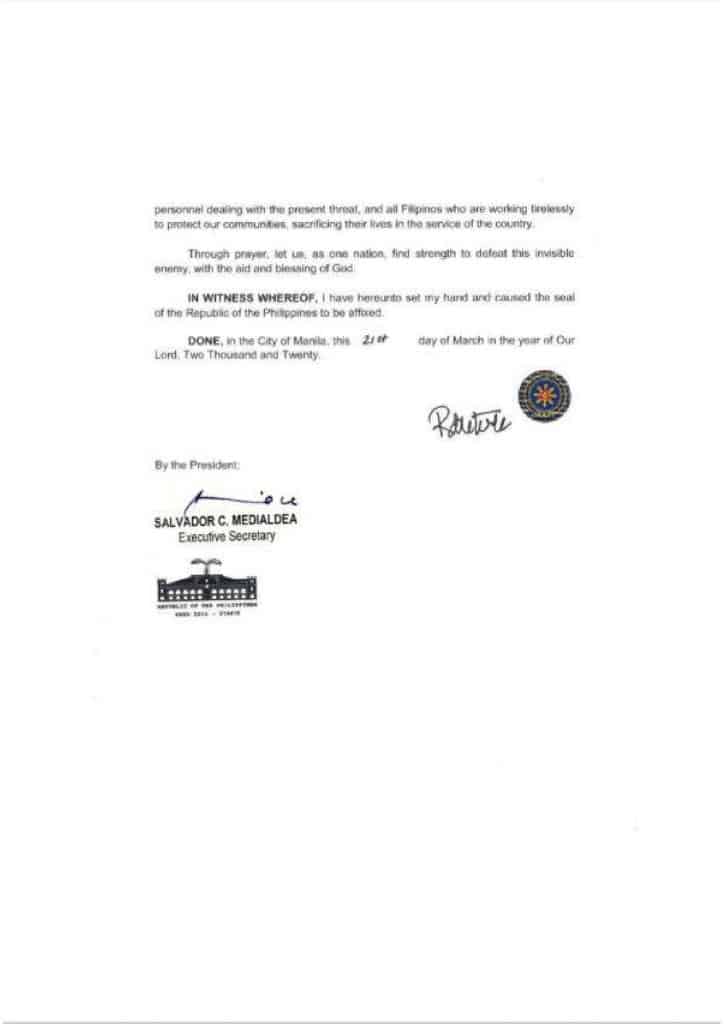 RECOMMENDED