The DepEd Commons is an online platform for public school teachers to support distance learning modalities. It was designed as a direct solution to give access to online review materials and Open Educational Resources (OER) during class suspensions and other similar circumstances.
OERs in DepEd Commons are authored by public school teachers who are subject experts, properly cited and acknowledged. Teachers can retain, reuse, revise, remix, and redistribute the content by blending it with a learning management system to deliver a distance learning modality.
DepEd Commons Facebook Community: facebook.com/groups/depedcommonsPH
DepEd Commons Facebook Page: facebook.com/depedcommonsPH
Access DepEd Commons: http://commons.deped.gov.ph
"As a teacher po nila, I can say na napakalaking tulong po sa mga bata nito lalo na po na nakahome quarantine. Masasabi ko po na this is the best way to continue their learnings even without their teachers. Nag eenjoy na sila, natututo pa," teacher Alleluia Romero
READ MORE
DepEd Commons Frequently Asked Questions (FAQ)
Paano magpasa ng inyong mga likhang kagamitang panturo?
DepEd Commons User Guide
We acknowledge the reality of the situation wherein DepEd Commons and its OER are not accessible to all teachers and learners. Many of our schools still do not have connectivity and access to the Internet. But in this extraordinary situation we find ourselves in, we must walk before we run. We must start somewhere and work our way towards the ideal where all teachers and learners in the country can access such resources. Until that time, we offer DepEd Commons and OERs to those who can make use of them, as we continue to work for the connectivity of all our schools and offices.
Those who do not have access to these requirements can opt for paper-based homework and are not required to visit internet cafés for health security, they have closed anyway in quarantined areas.
They have the discretion to adopt appropriate modalities of instruction provided that they follow strict compliance to the guidelines, policies, and reminders given by DepEd. – Usec. Alain del Pascua
"Education must continue even in times of crisis whether it may be a calamity, disaster, emergency, quarantine, or even war." – Sec. Leonor "Liling" Magtolis Briones
Access DepEd Commons: http://commons.deped.gov.ph
Teachers needing assistance on "DepEd Commons," can reach the DepEd Information and Communications Technology Service-Educational Technology Unit at edtech@deped.gov.ph.
How to Access DepEd Commons and Start Using Available Online Educational Resources (OER)
On the landing page of the DepEd Commons website, search and select for your school by typing your school ID or the name of school.

When searching by school name, type the first three-six letters of your school name (or until you find the closest match) and scroll until you find your appropriate school name. Please check the correct spelling and the respective location of the school.

They say don't quit until you have tried and try and try until you succeed. So It is advisable that you patiently search the complete name of the school. It's worth the attempts, we promise you.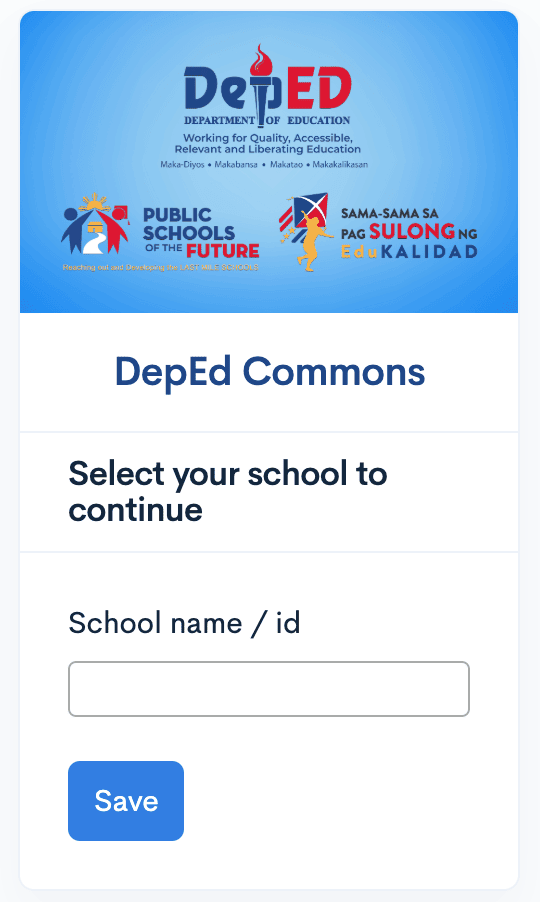 2. Select on your chosen school, then click on the SAVE button.
3. Next, hover your mouse or pointer to the left side of the screen where you will find the SELECT GRADE LEVEL button, then, select the grade level you wish to explore.
4. Once you have selected your Grade Level, click on the Subject to drill down your resource need.

The numbers indicate how many available resource/s there are for each category
5. When you click on the subject/ category, the available resources are displayed on the main area of the screen.

To view and download the resource, Click on the Download File

Or click on Go To link if the resource displays as a link.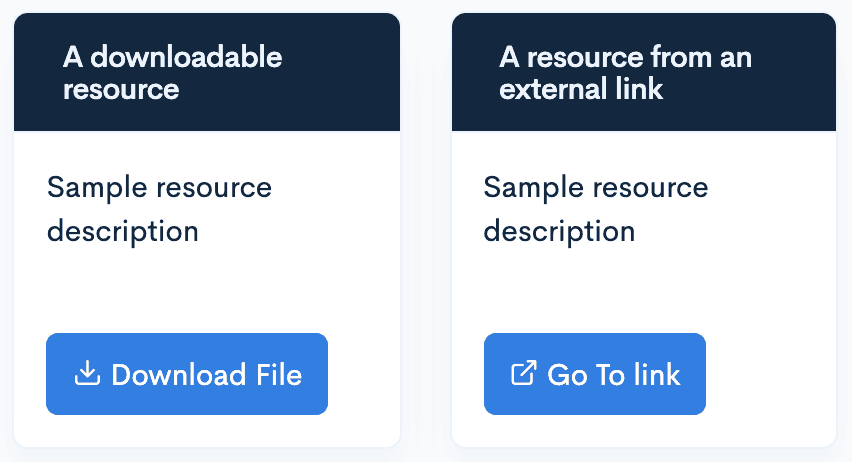 DISCLAIMER: The Facebook Page / Group promoted on this page is not an Official Page / Group from the Department of Education (DepEd), we only seek to help in promoting the platform for the benefit of our learners nationwide as we are in midst of Enhanced Community Quarantine. As we also believe learning is not only limited in the classroom.
DON'T MISS
What do you think of the new "DepEd Commons" online learning platform? Please share your thoughts on the comment section below. If you need assistance you may email us at support[@]guroph.com.
RECOMMENDED